The practical book
of sales and negotiation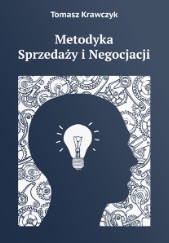 There is the book that every trader has been waiting for!
Sales and negotiation methodology developed in practice!

The book contains a description of negotiation tactics and methods of conducting sale talks. The author illustrates the methodology with examples of specific statements, which is the strength of this publication. He presented the methodology, focusing on the effectiveness of salesman's activities.



The author of this book is Tomasz Krawczyk, our company's Content Director, a professional negotiator, trader, sales manager with practice since 1994. He presented the essence of the methodology of effectiveness achieving in the book.

Tomasz Krawczyk describes the methodology of sales and negotiation together, as one area of skill, what is not common in the literature. He accent's that:


It is difficult to negotiate effectively without skills of sell and it is difficult to successfully finalize a sale conversation without understanding the principles and methods of negotiation.
ABOUT THE AUTHOR:
Tomasz Krawczyk - introduced companies to new markets by developing strategy and conducting physical trading activities as an independent trader. He has been hired to prepare companies for negotiations since 2002. As a negotiator and mediator involved to resolving disputes between companies or representing one of them in this process. The methodology of some products' sales developed by him was implemented in companies in Poland and other European countries. more...